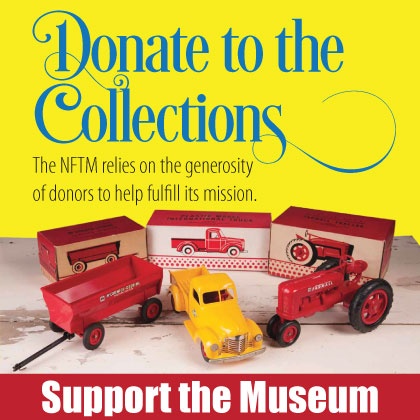 There are several ways you can help support the National Farm Toy Museum with your donations. Future generations will thank you for the ability to see farm toy history and how it evokes agriculture of the past and today!
---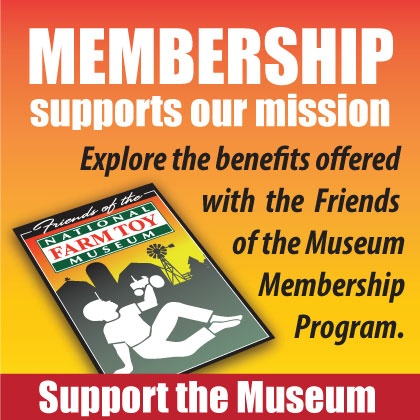 The National Farm Toy Museum is proud to share the rich history of agriculture with visitors from around the world. It is with the support of friends that make this possible. The museum's collection overflows with untold stories. The toys and replicas that fill our shelves evoke memories of the past. We hope to inspire the next generation of toy farmers to see where agriculture will take us next!
Join a membership program designed with the toy collector in mind, featuring an informative quarterly newsletter and passes to the Museum and toy shows. Educating younger generations of toy farmers is part of the Museum's mission, and with your assistance, it can become a reality. Please pledge your support today at any level.
Joining is easy!
Online – Click here to join now!
Phone – 563.875.2727 Have a question, call us we are happy to help!
In person – stop in at the museum and speak with our friendly staff
Mail – complete and mail the attached form to National Farm Toy Museum; 1110 16th Ave Ct SE; Dyersville, IA 52040
Benefits of Membership
---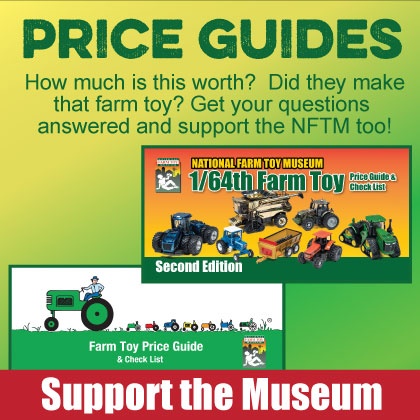 Started by Dick Sonnek in 1998, the National Farm Toy Museum took over the editorial duties in 2016. The Museum is honored to continue the legacy and expand Dick's vision with the addition of the 1/64th Price Guide and offer a digital version that combines both print versions. With each purchase of the price guide, you are supporting and sustaining the mission and vision of the museum.
---
Sales of the National Farm Toy Museum Collector Tractors and museum gift items helped build the museum, and it contributes to our annual success! We indeed are the farm toy hobby's museum and thank you for your love and support. Click here to see what is available!