Frequently Asked Questions (FAQs)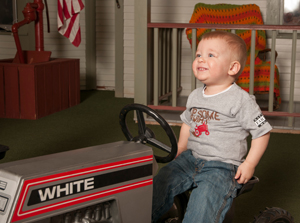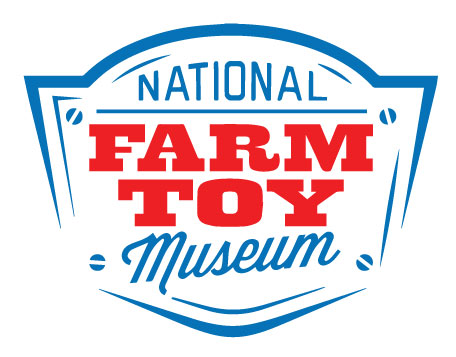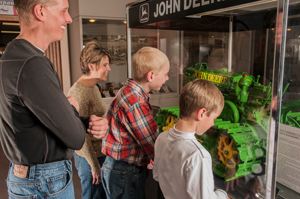 Admission
$7.00 Adult · $6.00 Senior · $5.00 Junior (6-17) · Free Youth (5 & under)
Hours
Monday to Saturday – 9:00 am – 6:00 pm · Sunday – 10:00 am – 4:00 pm
Families

Is there something for little kids to enjoy?
The National Farm Toy Museum upstairs play area is for kids to carpet farm! There are stationary pedals that they can ride to their heart's content. Don't miss the dioramas and displays for them to involve their imaginations! Also, consider engaging children with a game of eye spy to get them talking.

Other conversation-starting ideas include:
What is going on here?
What would it be like to be a part of this display?
Which is your favorite or least favorite farm toy in this exhibit? Why do you like it or not?
Which tractor replica would you like to take home, and why?
We do have many farm toys behind glass, and that can be frustrating for little ones but hope a museum full of farm toys can be fun and educational!
Can you appraise my collection?
The National Farm Toy Museum does not offer appraisals for farm toy collections. Consider contacting a farm toy dealer or auctioneer to ask about their appraisal services and fees. Another option to consider would be purchasing the "Farm Toy Price Guide". This pocket guide covers 1/16 scale is the most comprehensive listing of models available in the farm toy hobby. Looking for 1/64th farm toy pricing? We have a guide for that the "1/64 Farm Toy Price Guide & Check List". The museum now offers a "Digital Farm Toy Price Guide" too!
Do you buy Toys? Or collections?
The museum has purchased items vital to our collection scope but as a non-profit cannot afford to do so regularly. We receive generous support and donations from collectors around the hobby to maintain our collection and displays. If you want to contact the museum about an artifact you want to sell, please email farmtoys@dyersville.com include an image and detailed request for consideration by the Museum Advisory Board.

If you are interested in selling your collection consider contacting farm toy dealers in the hobby.
I want to be a vendor at this year's Toy Show whom do I contact?
Contact for the National Farm Toy Show® is through Toy Farmer – 1-800-533-8293.
Contact for the Summer Farm Toy Show is Amanda Schwartz – 563-875-2727
How much is this toy worth?
Unfortunately, the museum staff is busy working on museum displays and does not have the immediate resources or expertise to determine the value of toys for individuals. We recommend the farm toy price guide, print or digital version.
Does the museum accept donations?
Just like the real thing, only smaller. ERTL has been producing high-quality die-cast replicas since 1945. Producing licensed farm toys and equipment by the top brands in the farm and construction industry. Ertl is currently a brand under the TOMY International, Inc. umbrella. You can join the Ertl Collectors Club for free by visiting ertl.com.

TOMY Outlet Store: 563-875-5613 Address 2021 9th St SE, Dyersville, IA 52040