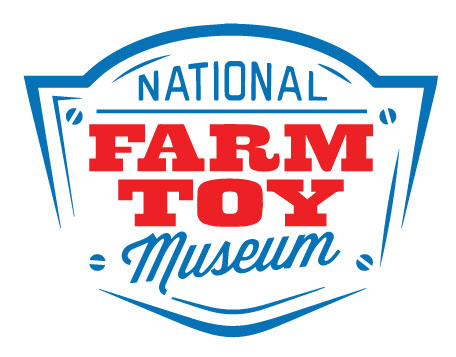 Items donated to the National Farm Toy Museum by Doug and Hilke Dann, from The Parts Shop and the 2019 Hall of Fame Inductees.
How long have you been Collection farm toys? Since I was a young boy!
What sparked your interest in collecting farm toys? At the age of 4 or 5, my father bought me a new Case toy tractor at the local Case dealer. That was a complete and memorable surprise that sparked my interest in farm toys. As a teenager, I began buying farm toys on my own and this was the beginning of my collecting.
Describe your collection. What types of toys do you collect? Our collection consists largely of farm toys tractors and implements of most brands. John Deere and Case brands are the major focus for Doug. Tru-Scale and Oliver are the two brands Hilke likes to collect. We also have pedal tractors. Doug has an extensive collection of farm equipment sales literature.
What is your favorite piece from your collection? What makes it special? A John Deere 430 toy tractor produced by Ertl in 1959. Doug bought this toy tractor new as a young boy at the state fair. In the 1980s, Doug had our friend, Weldon Yoder, restore the toy tractor. Years ago Weldon Yoder was inducted into the National Farm Toy Hall of Fame.
Where did you get most of the toys in your collection? Most of the toys, over the years, have been purchased at farm equipment dealers. Once toy shows were established we bought toys at toy shows. Other sources to obtain farm toys have been flea markets, antique stores, auctions and from individuals in some cases. We are always looking for toys wherever we go…even bought a rare farm toy tractor at the beach!
What is the one piece not in your collection that you would most like to own? A 1930 model John Deere D toy tractor produced by the Vindex Company. This toy is rare and a highly collectible toy and hard to find. Vindex was well known for making high quality cast iron toys.
What advice do you have for new collectors getting started in the hobby? 1.) Collect what you "like" and buy what you can "afford." 2.) Get to know other collectors, learn from them. 3.) subscribe to the Toy Farmer magazine a wealth of information 4.) Enjoy the hobby!
Thanks to Doug and Hilke for their generous donation to the museum and all of their contributions to farm toy hobby!  The following is the text that appears on their plaque hanging in the Hall of Fame. For a complete list of inductees click here.  
Douglas & Hilke Dann
Douglas and Hilke Dann grew up on dairy farms in the area of Canandaigua and Penn Yan, New York. But it was in Canada where they made their mark in farm toys. The couple started the Parts Shop and very successfully sold parts for farm toys, primarily at shows in Canada, but also through a mail-order business. Douglas wrote articles for a Canadian publication to help educate others about farm toys; he also restored farm toys for many years. They bought and sold farm toys, and customers would even call Hilke and ask her to find a particular scale model for them (which she did very effectively). The couple started the Elmira Maple Syrup Festival Toy Show in Elmira, Ontario, where they have lived since moving to Canada after college graduation. The Danns have also collected scale models and own an extensive selection of literature, as well as full-size tractors.