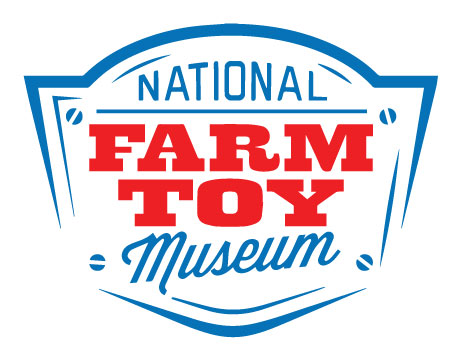 Press Release
2019 National Farm Toy Show®
Dyersville, IA, -- The 42nd annual National Farm Toy Show® is taking place in Dyersville, Iowa on November 1, 2, and 3, 2019. Called the "Granddaddy" of all toy shows, this show hosts wonderful farm toy vendors in three locations: the National Farm Toy Museum, Beckman High School, and Dyersville Commercial Club Park. There is a free bus service to all the area highlights all three days! This show has something for everyone!
Annual events include a display contest, with talented builders showing off their incredible skills on complex farm layouts that you have to see to believe! Another fantastic experience is the Sanctioned Micro-Mini Pull (for more information contact Jim Adams 515-745-1028), National Farm Toy Show® Auction on Saturday at 10 am in the Beckman H.S. Auditorium, and also on Saturday is the Kids Sanctioned Pedal Pull at Commercial Club Park. The Dyersville community is rolling out the red carpet for all of our visitors. Visit farm toy manufacturer open houses at Tomy, SpecCast, and Scale Models. Check out area businesses with Christmas Open Houses, the Annual Mercy Hospital Holiday Festival, Craft & Vendor Fair at the Dyersville Elementary and these Dyersville farm toy stores, the TOMY Outlet Store and the Plaza Antique Mall.
The show offers Floor Rights passes that allow you to pay one price for the entire weekend! Thirty dollars will get you in all three days and will enable you to enter early at 2:00 pm on Friday, and 8:00 am on Saturday and Sunday. General Admission is $10.00 for one day.
GENERAL ADMISSION HOURS: $10.00 Daily
Friday – Commercial Club Park – 8:00 am to 5:00 pm General Admission - 5:00 pm to 8:00 pm 
Saturday – 9:00 am to 6:00 pm 
Sunday – 9:00 am – 2:00 pm 
With visitors to the show, doubling Dyersville's population, many guests stay in the surrounding communities of Dubuque and Manchester. For additional accommodation information, contact the Dyersville Area Chamber of Commerce at 563-875-2311.
For more information about the National Farm Toy Show® contact Toy Farmer LTD of LaMoure, N.D. at www.toyfarmer.com or by calling 1-800-533-8293.
Of course, you should not miss the National Farm Toy Museum while in town. Check out the newly expanded gift shop too! Tickets to the show include museum admission! Here are some fun events going on in the museum during the National Farm Toy Show!
Museum Events
Museum Showcase Collection: Bernie's Sawdust
Bernie Kluesner's entire collection of handmade wooden toys features some of the most detailed and intricate woodworking replicas in the hobby. Constructed with only Elmers Wood Glue and not a single nail or screw! These miniature works of art are indeed a must-see!
Friday – 10 am-Noon and 1:30 pm–4 pm 
Saturday – 10 am–11:30 am and 1:30 pm–4 pm 
Sunday – 10 am–11:30 am 
Builder & Collector Society Farm Toy Raffle – November 1, 2, 3, 2019 in the museum – Led by Dale Bernard
John Deere Tractor by John Brockmann
1/16 IH 1466 Rice/Cane Tractor by Rob Lynch 
1/16 Oliver 1650 by Gene Ficken 
1/16 Allis-Chalmers 190 by Curt Eberhardt 
1/64 farm toy basket donated by Dalton's Farm Toys
 
Skill Seminar on Drilling and Tapping Friday, November 1, 2019, at Noon in the museum – Led by Jeremy Richards A how-to clinic on switching tires and rims, simple customization for all skill levels. Achieve the look you want on any farm toy. Parts provided by Chucky's Precisions Pullers & Parts.
Pulling Truck Customization - for youth builders (suggested age 7-12) Saturday, November 2, 2019, from 10 am – 1 pm in the museum – Led by Jay Roltgen Provide youth a chance to build a pulling truck in about 15-20 minutes to take home with them. The group hopes to provide a spark of creativity, empowering them to start doing more on their own.
Customizing a John Deere 3020 Saturday, November 2, 2019, at Noon in the museum – Led by John Brockman Listen and learn the art of customizing a farm toy from John Brockman. Feel free to ask questions in this informal presentation on getting started in the hobby! Support & Join the Builder's & Collectors Society and NFTM Membership to learn about more opportunities.